Mali: France's Neo-Colonial War for Uranium?
The population of the nomadic Tuareg tribe is estimated to be around 1.5 million and is split between Mali, Niger, Algeria and Libya. For centuries, the Tuaregs have survived in this Sahara region mainly by organizing and controlling the trade route of ivory, gold, salt and slaves. Their fierce resistance to colonization by France has caused the Tuaregs to be marginalized. The current problems of the Tuareg rebellion and French intervention in Mali could be linked to uranium.
Stefan Simanowitz
wrote in 2009:
"A key reason that the governments in Mali and Niger are not keen to give the Tuareg greater autonomy is that the areas that they inhabit are home to vast natural resources… [with] the world's third largest uranium reserves as well as substantial oil reserves."
He pointed out that French mining company Areva had lost its almost complete exclusive right to Niger's uranium. This could easily explain why France could not afford to lose Mali as well.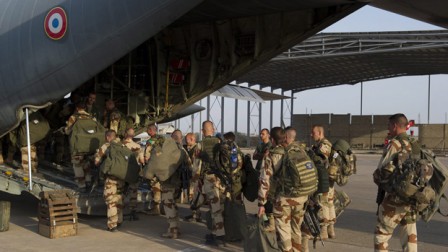 French President Francois Hollande has committed more French troops to countering an Islamist insurgency in Mali with the decision to increase the number of ground troops from the current 750 to 2,500, a recognition of the difficulty in driving the rebels out of the territory they hold in the north of the African country.
"The operation will be long and difficult," said Foreign Minister Alain Juppe.
Paris is also widening its diplomatic offensive. After securing the unanimous support of the UN Security Council on Monday, Hollande was in the United Arab Emirates on a pre-planned economic mission, but also seeking Arab backing for the operation in Mali.
Hollande stressed that French troops would leave once terrorist threat has been eradicated. "France does not have a vocation to stay in Mali," he told reporters in Dubai.
France's NATO allies lined up to express moral support for the French operation and some were offering logistic support. Canada has joined Britain in offering transport planes. An emergency meeting of European Union foreign ministers called for Thursday is expected to approve the deployment of a training mission for the Malian army.
Efforts to pull together a force from Mali's neighbours in Economic Community of West African States (ECOWAS) were also ongoing, with the first units in a 900-strong Nigerian contingent due to arrive within 24 hours.
Also today, Nigeria said it will send nearly 200 troops to Mali within the next 24 hours to shore up French efforts to oust Islamist militants there,
according to the Associated Press
, a pledge that comes a day after France defended the operation and rebels seized a Mali town.
The Nigerian deployment is the first wave of a 900-strong United Nations-mandated African force the nation is contributing to the French operation in the coming week, defense spokesman Colonel Mohammed Yerima told journalists today,
reported Agence France Press
.
Benin, Ghana, Niger, Senegal, Burkina Faso and Togo have also promised troops, but doubts remain over their combat readiness and France is expected to remain at the vanguard of the push against the Islamists.
France, meanwhile, is using air and ground power in a joint offensive with Malian government troops launched Jan. 11 against hardline Islamist groups controlling northern Mali since April 2012.
Hollande was
quoted by Agence France-Presse
as saying Tuesday, during a visit to Peace Camp military base in Abu Dhabi:
-----------------------------------------------------------
France launches war in northern Mali
01/15/13
French aircraft and ground troops attacked Islamist rebel forces in northern Mali on Friday and over the weekend, while hundreds more French troops arrived in Mali's capital Bamako.
Without even consulting the parliament, which will take up the issue today, French President François Hollande declared an open-ended war in Mali, ostensibly to help the Malian government fight Al Qaeda-linked forces among the rebels. He said the war would last "as long as necessary."
The Islamist Ansar Dine militia reportedly threatened to overrun a major Malian government airfield in nearby Sévaré, which is considered vital for any military intervention in northern Mali. This militia has controlled much of northern Mali since last April, after Tuareg forces fleeing the NATO war in Libya forced weak and divided Malian government forces out of the northern part of the country. For months, France and its NATO allies have been planning war in Mali.
On Thursday, the rebels captured the village of Konna after heavy fighting with government forces. The French Air Force retaliated, striking Konna on Friday and killing approximately 100 people. A French helicopter pilot was reportedly killed by small arms fire, and 11 Malian soldiers fighting alongside the French were killed. French Defense Minister Jean-Yves Le Drian said the Islamists were driven out of Konna but remained in the area after "intensive fighting."
Ansar Dine spokesman Sanda Ould Bouamana told
Al Jazeera
, "The terrorist French military bombed Konna. The hospitals are now filled with the injured—women, children, and the elderly are the main victims. It's impossible to know how many have been killed, but the number is huge. Only five of those killed were our fighters. The rest are all innocent civilians killed by the indiscriminate bombing of the French air forces." Denying that his organization had ties to Al Qaeda, Bouamana added that Mali "will be the Afghanistan of the region, and France's downfall."
Air strikes continued over the weekend. On Sunday, Algeria gave France permission to use its airspace to reach targets in Mali, abandoning its traditional opposition to military intervention in the region. This allowed France to launch air strikes in Mali with jets stationed in France. French aircraft are also operating from bases in Mali and in neighboring Chad.
On Sunday, French jets bombed rebel supply depots and bases in the major northern cities of Gao and Kidal. A Malian official in Gao hostile to the rebels told the
New York Times
, "The hospital in Gao is overflowing. Both morgues in the city are filled with bodies."
While carried out formally in cooperation with the coup-ridden Malian government, the French invasion of Mali is an act of imperialist brigandage. Justified to the Malian and French populations on the basis of cynical lies, the war will inflame a civil war that has already turned 300,000 Malians into refugees and set the entire Sahel afire.
As French bombs rained down on Mali, Hollande warned the country that it faces "aggression by terrorist elements" among the northern rebels. He added, "The terrorists must know that France will always be there when it is a matter not of its fundamental interests, but of the rights of a population, that of Mali, who wants to live freely and in a democracy."
The pretense that France is rushing in to defend democracy against Al Qaeda, with total disregard for its own "fundamental interests," is an absurd lie. First, the French government has no principled opposition to Al Qaeda. Libyan jihadist forces helped Paris and its NATO allies topple Muammar Gaddafi in the 2011 Libyan war, and Paris is still relying on the Al Qaeda-linked Al-Nusra Front in NATO's proxy war against Syrian President Bashar al-Assad.
French imperialism is waging its war in Mali very much in line with its fundamental interests. A colony of France from 1892 to 1960, Mali is located in the geographical center of West Africa, a resource-rich area that was once the heart of France's colonial empire.
French nuclear energy firm Areva has already mined 100,000 tons of uranium since 1968 in neighboring Niger and plans to open the world's second-largest uranium mine there in 2014. The Hollande government is using the war to establish closer ties to the Algerian regime, which has immense reserves of natural gas. French forces are also deployed in Senegal, Burkina Faso and the Ivory Coast. All these countries are former French colonies.
France is working with the US, Britain, and other NATO allies to plan a broader intervention in Mali, for which various West African stooge regimes will provide ground troops. UN Secretary-General Ban Ki-Moon confirmed that Senegal and Nigeria had already sent "help" to Mali. Burkina Faso's minister of foreign affairs announced that his country would send 500 troops after a meeting of parliament in the next couple of days.
On Saturday, a representative of the Economic Community of West African States (ECOWAS) announced that the organization would send troops to Mali by today. The rotating chairmanship of ECOWAS is currently held by Ivory Coast President Alassane Ouattara, who was installed in power by a French-backed UN military operation in April 2011 after disputed elections.
France's right-wing parties lined up behind the war in Mali. Jean-François Copé, the spokesman of the Gaullist Union for a Popular Movement (UMP), promised Hollande his "support."
French neo-fascist leader Marine Le Pen praised Hollande's war as "legitimate," adding: "Our country has been called to assist by Mali's legitimate government in line with defense agreements between our two countries, in a French-speaking area."
The Mali war is the first major war launched by Hollande's Socialist Party government, which came to power last year. It is a devastating exposure of the role of petty-bourgeois "left" forces, such as the French Communist Party (PCF), the Left Front, and the New Anti-capitalist Party, which called for an unconditional vote for Hollande.
The intervention in Mali serves an important purpose for Hollande domestically—diverting attention from his vicious attacks on the French working class. It is no coincidence that, within hours of the assault on Mali, the Hollande government announced the most far-reaching "labor market reform" to date, including the imposition of more "flexible" working conditions. The measures, negotiated with the trade unions, were immediately hailed by the Medef employers' association for "enabling the country to regain its competitiveness."
France is working closely with NATO allies in its Mali war. The head of the US Africa Command, General Carter Ham, said the Pentagon was weighing a broad range of options to "support the French effort," including intelligence-sharing and logistics support, but was not considering sending American troops. Washington is reportedly studying a French request for the US to allow France to use its drones.
British Prime Minister David Cameron's office told AFP it was sending two transport planes to help bring in soldiers and equipment, but there would be no British troops on the ground.
---------------------------------------------------
Napoleon in Mali
French socialists reinvigorate French imperialism
As the French
invade Mali
under the guise of fighting "Islamic terrorism," the reawakening of long dormant French imperialism straddles the fine line between comedy and tragedy. A French air strike against a rebel-held town wound up killing
over a hundred
, including many civilians, but the triumphal mood in Paris soon dimmed when it was suddenly
discovered
that the mission – dubbed "Serval" by the French, after a North African wildcat – which was supposed to take a few weeks will instead require an extended campaign.
Wildcat? Tabby cat is more like it.
Before we can come to any appreciation of what is actually happening in Mali, the narrative we are being sold needs first to be debunked. News accounts refer to the rebels as "
Islamists
," an easy label to affix to groups very few know anything about. The reality, however, is quite different: the rebels are
Tuaregs
of Northwest Africa, a nomadic group whose
historic homeland
crosses the boundaries of Mali, Algeria, Libya, Niger, and Burkina Faso. They are herders and smugglers, whose caravans once provided the only source of commercial contact between the empires of central Africa and the Arab lands to the north. Their fight for independence precedes the existence of Al Qaeda by a hundred and fifty years.
In the Great Scramble for European colonies that began at the end of the 19
th
century, French colonialists
invaded
, seized the land, and subjected the locals to a program of forced "assimilation" into "French civilization." The Tuaregs have been fighting to regain their independence
ever since
. Today, however, that struggle has been reinterpreted as yet another example of "Islamic terrorism."
This is outright false. The Tuareg independence movement is led by the National. Movement for the Liberation of Awazad (
MNLA
), a secular organization that only wants autonomy for the Tuareg areas of Mali. There are active Islamists in Mali, affiliated with
Ansar Dine
, which has no known affiliation with Al Qaeda in the Mahgreb other than the fact that Ansar Dine's leader, Ag Ghaly, is a cousin of AQIM commander Hamada Ag Hamada. "It is true that Ansar Dine have the black flags, but they are not Al Qaeda,"
said
MNLA spokesman Ag Assarid. "They want stability on the streets," which the "government" of Mali is unable to provide, and "they are against Al Qaeda too." North African specialist Salma Belaala concurs: "We can't make a systematic link between the AQIM and Tuareg. It's completely false."
In any case, the tactical alliance between the MNLA and Ansar Dine has been an
on and off affair
: days after the "merger" of their forces was announced, the MNLA began to back off – and, a week later, the lash up was back on again. This link to "terrorism," never mind
Al Qaeda
, is tenuous indeed – but how else will the revanchist dream of a revived French empire in Africa be realized except under the rubric of the "war on terrorism"?
If the French invasion – or, rather,
re
-invasion – of Mali is really aimed at expunging Al Qaeda, then perhaps they ought to be attacking the Algerians: Professor
Jeremy Keenan
, of the School of Oriental and African Studies in London,
says
the Algerians have longtime links not only to Ag Ghaly, but also to important Al Qaeda figures, including Abdelhamid abou Zaid. The Algerians, he says, have an interest in supporting the "specter" of Al Qaeda looming in the Sahel because it
increases their value
to the US – and
promises
to reap a bonanza in military and economic aid.
As for the "government" of Mali – after a series of Tuareg victories in the north, the military
overthrew
the elected government and declared martial law. The army complained that not enough attention was being paid to crushing the Tuareg insurgency, and
last month
they seized the presidential palace, the state television station, and arrested key members of the legitimate government, although the President, Amadou Toure, escaped. This is the "government" the French, with aid from
the US and Britain
, are fighting to preserve.
What in the name of all that's holy is going on here? Why this war?
Economically depressed
, riven by deep
social
,
ethnic
, and
political
divisions, France is suffering from a crisis of national self-esteem. The attempt by the Socialist government to impose a program of confiscatory taxation – up to
75 percent
of income – while ushering in a regime of
austerity
on the populace is proving immensely unpopular. With forces on the far left and the far right fast gaining traction, the "centrist" Socialists of Francois Hollande are desperate to
refurbish
their image as soft and indecisive. After the assault on Mali, Hollande will no longer be known as "
Flanby
," after a gelatinous dessert.
The reassertion of French imperialism has nothing to do with "terrorism," Al Qaeda, or anything remotely connected to either of these phenomena. Instead, it has everything to do with French politics, and the long history of the French expansionist movement. Since the days of the
Great Scramble
, there has been a small but influential colonialist lobby which constantly agitated for the expansion and development of
France's overseas empire
, especially in North Africa. Initially these ideologues rationalized their program of colonial conquest by pointing to the virtues of French civilization as a
benign influence
on the downtrodden races of the Dark Continent. Indeed, the first champions of extending the benefits of rich sauces and an inexplicable conceit to the benighted Africans were explicit racialists. As fervent anti-clericalist and Republican politician Jules Ferry (twice Prime Minister of France)
put it
to the National Assembly:
"Gentlemen, I must speak from a higher and more truthful plane. It must be stated openly that, in effect, superior races have rights over inferior races."
This superiority, Ferry averred, gave them not only the "right" but the "duty" to raise the French tricolor over darkest Africa. Societies for the
propagation of colonialism
, the Comité de l'Afrique Française and the Union coloniale française, grew up, and lobbied for government subsidies in order to "develop" the colonies and – coincidentally – enrich the merchants of Lyons, Marseilles, and other port cities. Chambers of commerce were a key link in this powerful lobby.
The "
assimilationist
" rhetoric of the colonialists – the idea that the Africans were going to be properly "civilized" and made into model French citizens – soon gave way to the "developmental" phase of French imperialism, during which the civilizing mission was subordinated to the alleged
commercial advantages
of empire. Except it turned out that these colonies were financially impractical, and turned a loss – although some well-placed merchants, with the right connections, turned enormous profits.
Mali is Africa's third largest producer of gold, and the
recent discovery
of vast unexploited sources of oil on traditional Tuareg stomping grounds should give us some idea of the commercial motives behind the French incursion. Yet it isn't just greed that motivates the new Napoleons: you'll note the French have been increasingly self-assertive of late, always the first to call for intervention in this or that "crisis," from
Libya
to
Syria
and now taking
the lead
in Mali. This burst of nationalistic fervor is very convenient for the French political class, which presides over a near bankrupt museum of past glories and little else. What better way to divert attention away from such a sorry fate than to gin up a convenient war in which, once again, the mystic virtues of "French civilization" emerge victorious to universal applause?
The US was reportedly
reluctant
to get involved, but got dragged in when the French overrode Washington's caution and went ahead anyway. Now we are stuck, once again, "leading from behind," i.e. cleaning up the mess our allies leave behind.
Here is a perfect lesson in how a local authority with no popular mandate – the Malian "government," in this instance – can gin up a "terrorist" scare in order to maintain its tenuous hold over its own people. Just as, during the cold war, local tyrants from Argentina to Vietnam ginned up Western
intervention
in the name of the "war on communism," so their 21
st
century equivalents are following the same pattern. When will we ever learn?
Mali is no more a real country than
Libya
ever was – both are creations of European imperialism, which drew arbirary borders in the Great Scramble and then left, leaving local tribes and clans to fight it out among themselves. In order to justify their return, the new imperialists are claiming to be fighting "terrorism," and yet what they really seem to be battling is their own undeniable decline. The only "crisis" here is the crisis of French self-esteem – and the "
multilateralism
" that drags us into every conflict, no matter how obscure.
------------------------------------------------------------------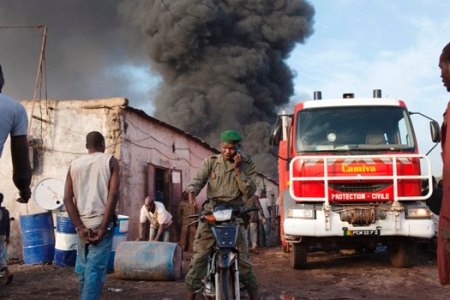 In late December 2012, the United Nations Security Council approved the dispatch of an "African-led intervention force" to Mali's to help the army reconquer the north of the country from Tuareg separatists and their allied Islamist militants. But in recent days, it is not the African-led troops who have been operating in Mali. Instead, troops from former colonial power France have been unilaterally deployed to fight the rebellion in the north. Since the coup that overthrew President Amadou Toumani Toure on March 22, 2012, Mali has undergone a multifaceted crisis: a political crisis with all of Mali's institutions put into question, a territorial crisis where the north is controlled by Tuareg rebels who have been joined by Islamists, and a security crisis with an army that is divided, demoralized and poorly equipped. Last but not least, there is also a humanitarian crisis involving more than 800,000 refugees.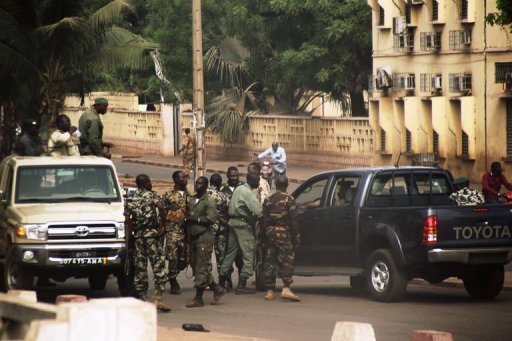 Recipe for a failed state
Soon after the coup against Toure, France and ECOWAS (Economic Community of West African States) set up a strange and dysfunctional governing triumvirate, with a prime minister, president and one representative of the army, which the French authorities themselves have described as "the least bad solution." The three elements of power have not been able to agree on anything, from the constitution to a coherent strategy to deal with the rebellion in the north.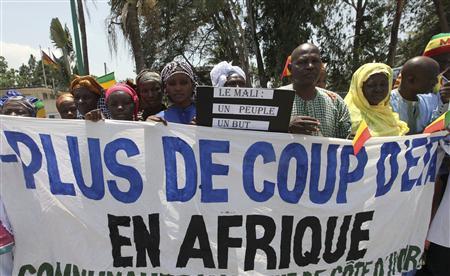 Most Malians do not understand why their army cannot end the foreign occupation. But the putsch affected the chain of command, with lower-ranking troops rebelling against the top brass, not to mention a split of the infantry green berets from the paratrooper red berets. Army leader Captain Amadou Haya Sanogo recognizes that, from an official fighting force of 10,000, only 5,000 are "combat ready" and only about 2,000 are "truly motivated." The northern rebels, on the other hand, have 4,000 fighters at their disposal, all of them experienced, motivated and battle-hardened.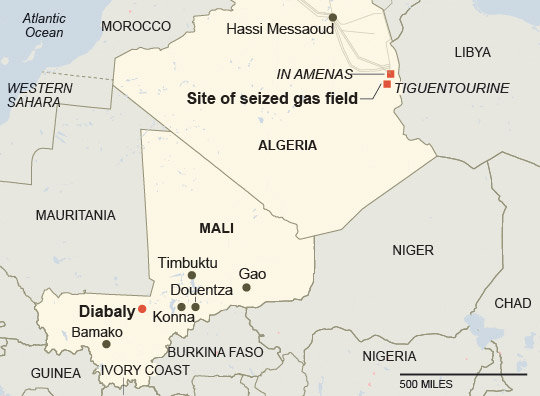 Is Captain Sanogo a tool of AFRICOM?
Captain Sanogo and his green berets led the March 2012 coup, but the 39-year old Captain is much more about style than substance, and his nationalist stance seems a bit superficial when one examines his background. Captain Sanogo is somewhat of an embarrassment for the United States, considering that he received six "training missions," including one in Camp Pendleton, between 1989 to 2000. It appears that the US, either willingly or unwillingly, trained some of the Malian officers who were responsible for last year's putsch against president Toure. Over the past decade, the US has poured $1 billion into Mali, mainly in military training through AFRICOM, and has, in effect, acted against France's influence and role in the country. The current French military intervention will likely weaken Sanogo but strengthen President Traore, who has requested military aid from France.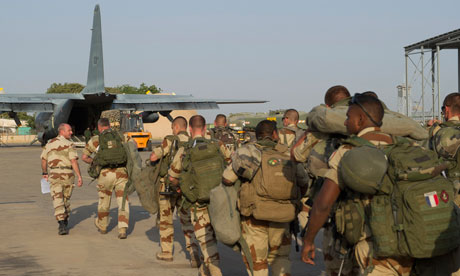 Neo-colonialism: France's enduring West-African legacy
While former colonial power France has championed West Africa's independence in words since 1960, the former imperial power's actions have continuously undermined this independence. For more than five decades, France has maintained a neo-colonial relationship called "FrancAfrique" with all of its former colonies, including Mali. Paris has cultivated this dependency by militarily shoring up hand-picked regimes in exchange for prime access to resources.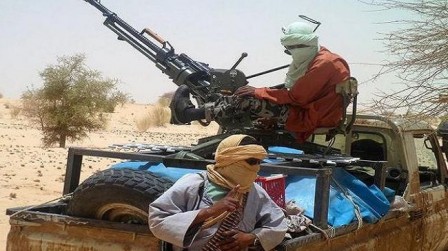 In an article titled "
Financial Enslavement of West Africans by France
," Antoine Roger Lokongo explains in great detail how a terrible bargain was forced by France on the newly-independent West African countries. This pact, which keeps West Africa under France's thumb, was negotiated under the supervision of Mr. Jacques Foccart. The deal, called "Pacte Coloniale," maintained France in control of all the key components of the new African states in all aspects of politics, the economy, and of course, the military.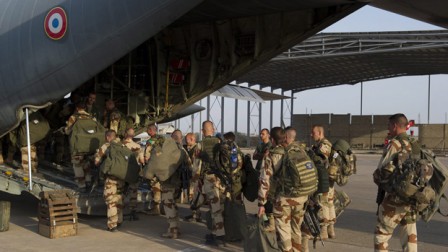 Mali: France's war for uranium passing for war on terror?
The population of the nomadic Tuareg tribe is estimated to be around 1.5 million and is split between Mali, Niger, Algeria and Libya. For centuries, the Tuaregs have survived in this Sahara region mainly by organizing and controlling the trade route of ivory, gold, salt and slaves. Their fierce resistance to colonization by France has caused the Tuaregs to be marginalized. The current problems of the Tuareg rebellion and French intervention in Mali could be linked to uranium.
Stefan Simanowitz
wrote in 2009:
"A key reason that the governments in Mali and Niger are not keen to give the Tuareg greater autonomy is that the areas that they inhabit are home to vast natural resources… [with] the world's third largest uranium reserves as well as substantial oil reserves."
He pointed out that French mining company Areva had lost its almost complete exclusive right to Niger's uranium. This could easily explain why France could not afford to lose Mali as well.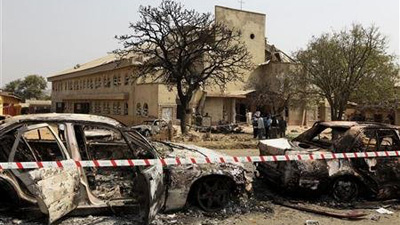 On Monday, French foreign minister Laurent Fabius said that it was not France's role or intention to act alone in Mali. "We are not alone in this. The international political support we have is almost unanimous. It is not France's role to operate alone in Mali. By intervening in Mali, France has assumed its international responsibility. Key interests were at stake for us, for Africa, for Europe, so we had to act quickly," said Fabius. Could one of the key interests mentioned by Mr. Fabius be uranium?
Uranium is indeed France's key energy resource. France's civilian nuclear program started its brisk development in the 1960s. According to the
World Nuclear Association
, over 75 percent of France's electricity is produced from nuclear energy, and France is the world largest net exporter of electricity, with a revenue of more than 3 billion Euro a year. France (through the company Areva) is also very active in the development and export of nuclear-reactor technology. Despite the fact that about 17 percent of France's electricity is produced from recycled nuclear fuel, the country heavily depends on uranium.
Malian troops are on the ground and about 75o French soldiers have been deployed so far; in addition, France has sent a substantial amount of air support. An African force of 3,300 is expected to join the Malian and French troops. Six thousand French nationals live in Mali, and French president Francois Hollande said that French involvement "would last as long as is necessary."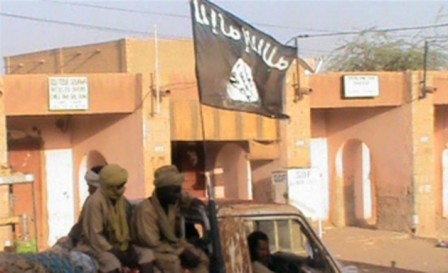 Criticisms of the military involvement in Mali are already coming from within France. Former French prime minister Dominique de Villepin said that the military intervention in Mali was "ill thought-out" and compared it to the US "war on terror." De Villepin compared France's attempt to stem Islamists in Mali to "a decade of lost wars in Afghanistan, Iraq and Libya."
"How has the neo-conservative virus been able to infect our outlook? This unanimous enthusiasm for war, the haste with which we are doing it, and the deja-vu of 'war on terror' worries me. We will be fighting alone without a reliable Malian partner. With the removal of the Malian president in March, and its prime minister in December, with the collapse of the deeply divided Malian army, and amid the wholesale failure of the Malian state, who can we rely on for backup?" said de Villepin. De Villepin argues that what is needed is a political effort to bring the Tuareg together with the south to negotiate a reasonable solution, while isolating the Islamists. Ever since the start of the Iraq war, De Villepin has not stopped advocating for"political resolutions of crises away from the vicious cycle of armed force."
Editor's Note: All photographs by Pan-African News Wire.
--------------------------------------------
Προκλητικά αδιάφορη η ΑΥΓΗ (18-1-2012) για την εξωτερική πολιτική .. ασχολείται με τον ΝτεΠαρντιε ...