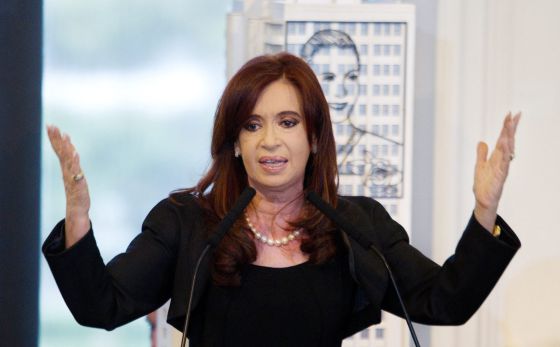 ampliar foto
Argentina announces expropriation of Repsol oil subsidiary YPF
After weeks of speculation, Argentinean President Cristina Fernández de Kirchner announced on Monday that her government is going to nationalize the Spanish Repsol subsidiary YPF, declaring that her country's hydrocarbon industry was a sector of "public interest."
In a speech made in Buenos Aires after returning from the Americas Summit in Colombia, Fernández de Kirchner explained that she will send a law to Congress that proposed giving 51 percent control of YPF to the federal government and the remaining 49 percent to the country's provinces.
In the coming days, the country's appraisers will decide how much it will reimburse YPF for its shares.
"When one makes decisions in the interests of national management […] one also expects that managers understand the interests of the state," Fernández de Kirchner said.
"We are the only country in America and one of the few in the world that doesn't manage its own natural resources, but there were stronger arguments in favor of us taking this decision," she said.
The nationalization came just days after Spain issued a stern warning against the Argentinean government not to take control of YPF, threatening to break "economic and fraternal" relations if the leftist Peronist administration of Fernández de Kirchner followed through with the plans.
In Madrid, María Dolores de Cospedal, secretary general of the ruling Popular Party (PP), said the government intends "to give an energetic response" after consulting with its European Union partners.
An EU delegation from Brussels was scheduled to arrive in Buenos Aires on Thursday to demand that Argentina respect the agreements it has signed with foreign investors.
------------------------------------------------
https://imagenes.repsol.com/es_en/YPF_Expropiacion_ing_tcm11-621728.pdf
Spanish multinational corporation Repsol purchased 98% YPF in 1999 in two stages: a 15% share sold by the national government for US$2 billion, and a further 83% for over US$13 billion including all remaining public sector shares (10%, equally divided between the nation and the provinces) as well most of the outstanding investor shares. The union of the two companies took on the name Repsol YPF; YPF would represent 40% of the new firm's reserves and over 50% of its production.
The Petersen Group (property of the Eskenazi family of Buenos Aires) entered into a partnership with Repsol in 2007 by acquiring a 15% stake in YPF; the group bought another 10% of the company for US$1.3 billion on 4 May 2011. A majority of the firm's shares (58%) remained under the control of Repsol, while 16% remained in private portfolios; the Argentine Government retained the golden share.
Production and reserves declined and the nation's energy trade balance recorded a loss of US$3 billion in 2011, the first since 1987.
[30]
President
Cristina Fernández de Kirchner
raised YPF frequently in speeches during March 2012, referring to underinvestment and excessive
dividends
at the firm as the cause for output declines.
[31]
Governors in six fossil fuel producing provinces subsequently revoked YPF leases representing a fifth of its oil production.
Citing Brazilian oil giant
Petrobras
as an example, the president ultimately announced the introduction of a bill on 16 April for the partial
renationalisation
of YPF, whereby the state would purchase a 51% share; the national government would, in turn, control 51% of this package, and the provincial governments 49%. Planning Minister
Julio de Vido
was appointed to head the
Federal intervention
, replacing CEO Sebastián Eskenazi.
[30]
Repsol YPF CEO Antonio Brufau, Spanish Prime Minister
Mariano Rajoy
and other Spanish officials expressed objections to the nationalisation, accusing the Argentine government of driving down YPF shares ahead of the announcement (its stock quote declined by over half from February to April). Responses included a diplomatic offensive by Rajoy in other countries in the region;assurances by Industry Minister
José Manuel Soria
of "clear and decisive" Spanish government measures; Foreign Minister
José García-Margallo y Marfil
's admonishment that Argentina had "shot itself in the foot" by damaging
relations with Spain
[33]
(adding that such a move would make Argentina a "
pariah
") and other threats.
]
The Chinese state oil concern,
Sinopec
, was reported to have been in talks to buy out Repsol's share in YPF - a potential deal scuttled by the Argentine announcement. Repsol shares fell by 9%.
Argentine Economy Vice-Minister Axel Kiciloff rejected initial Repsol demands for payment of US$10.5 billion for a controlling stake in YPF, citing debts of nearly US$9 billion;
]
the firm's
book value
at the end of 2011 was US$4.4 billion,
[1]
and its total
market capitalization
US$10.4 billion on the day of the announcement.
----------------------------------------------
Daniel Wagner: Argentina's Expropriation and the Lessons of History
Created in 1922, Argentine oil producer YPF became the first entirely state-run oil company in the world, and came to symbolize the politicization of oil well before today's Middle Eastern oil producers became omnipotent. The nationalization of oil has been a consistent theme in Argentina since the state first established a monopoly on oil exploration in 1928. President Kirchner's recently announced expropriation of YPF continues a long tradition of gyration between pro and anti-foreign investment sentiment in the country's oil sector.
Given that the president consolidated her power by being reelected in a landslide vote last year, she has a mandate to continue the 'Argentina first' policies she pursued during her first term. YPF's expropriation is the largest of its kind in the natural resource sector since the Russian government expropriated Yukos a decade ago, and a reminder -- as if any were needed -- that acts of expropriation can occur without notice, even to the largest of multinational corporations.
Surely, Repsol would have been aware of Argentina's history of expropriating foreign investment in YPF over the course of the past century. Given how entrenched oil politics have become in Argentine political culture -- and given how deftly both the current president and her husband played the nationalism card -- only a naïve investor would agree to invest in YPF believing that expropriation was impossible. And yet, Repsol can be excused for wanting to believe that Argentina's propensity to expropriate was a thing of the past.
Since 2002, expropriations in the natural resource sector
have increased considerably globally
. According to the International Center for the Settlement of Investment Disputes, of the 143 pending cases of investment disputes awaiting an outcome, an astonishing 49 percent (70 cases) are in Central and South America. And the country with the most number of cases lodged against it is (you guessed it) Argentina -- even more than Venezuela. The 'bad boys' of Latin America -- Bolivia, Ecuador, and Venezuela -- have all either said they will no longer resolve disputes through international forums of arbitration, or have already pulled out of them. Other Latin American countries may now be expected to follow their lead.
Argentina has enjoyed an impressive period of growth since resolution of the Argentine Crisis a decade ago. The country's
more than tripling of GDP
since 2002 has given it confidence to take this bold action. But history has shown that those countries that go down the path of expropriation end up paying the price in terms of reduced foreign direct investment. That has certainly been true of Bolivia, Ecuador, Nicaragua and Venezuela. It would be a mistake for Argentina to believe that the same will not be true in its case.
But there is a lesson for Repsol -- and indeed all international investors -- as well, which is that history cannot be erased, or ignored, for it is an important teacher. Given history, it was just a question of time until the Argentine government would turn against Repsol. In the end, it didn't matter how supportive Spain had been of Argentina through its difficult times, or how good the company's relations had been with the government. When the time is right, history will raise its head and reassert its influence in the present-day political and economic dynamics of a country. Given Argentina's example, foreign investors would be wise to remember this -- particularly given how fragile the global economic recovery is proving to be.