After
showing off
its wares at CES this year, LG has finally announced that its first 3D LCD, the 47-inch 47LH50—will be up for purchase next month. Well, in Korea at least.
The new TV is based on the 47LH50—even sharing its model number—and is functionally identical, aside from the fact that it'll occasionally require you to don polarized 3D glasses. That model number is significant, and bodes well: the old 47LH50
made it to the US
, so it's fair to say that this one will, too. No price info yet, but the old one nudged $2,000.



The new televisions will use special glasses with electronic shutters which fool the brain into thinking it is seeing a three dimensional image.


Sony has already made dozens of 3D programmes and films and is also working on 3D games for the

Playstation 3

console.

"The 3D train is on the track and Sony is ready to drive it home. Today, 3D is clearly on its way to the mass market," Sony's Welsh boss

Sir Howard Stringer

told the IFA technology conference, being held in

Berlin

.

Sony showed prototypes of its 3D Bravia TVs at the show, expected to go on sale next year.


The 52inch TVs have not yet been given a price, but are likely to be far more expensive than conventional TVs. Viewers will also need to buy the special glasses with the computerised shutters. The glasses work by shutters blanking the image each eye sees in synch with the TV picture, which displays pictures from two different angles (as the left and right eye would see) in quick succession.


As the wearer first dons the gasses, a wireless sensor above the TV ensures they are shutting in the right order, and the image on screen suddenly becomes 3D. Experts say Sony's decision to back 3D could see it adopted quickly in the UK, where Sky television has already demonstrated that its existing high definition satellite TV service can deliver 3D channels.


"Sony's 3D demos are impressive stuff. Sport and gaming in particularlooked very good," said Michael Brook, editor of gadget magazine T3.


"With Sky behind it sport could be a real killer application. However, the drawback will be the price, which is likely to be double the price of a normal TV. There is also the fact the glasses contain a lot of technology, and could be expensive if you tread on them."


Experts also fear there is a potential formats war for 3D TV looming, with rival manufacturers planning systems based on glasses with polarising lenses rather than shutters.


Sony also revealed a range of internet -connected TVs to be launched early next year which allow people to watch video websites such as

YouTube

on their living room TV.

It has signed up Channel 5 to help develop the service, which could eventually allow people to easily watch online TV services such as the

BBCs

hugely popular iPlaye



Three-dimensional TV is coming to a living room near you. But will the technology spur a consumer spending spree like digital and high-definition TV did before it? Or will 3D end up being the next big flop?

One thing is clear, TV manufacturers need something new to get people buying TVs. Over the last couple of years, TV manufacturers have experienced a sales boom as consumers upgrade to digital TVs in anticipation of the
government's mandated switch to digital TV broadcasts in February 2009
. Eager shoppers have also been upgrading to high-definition TVs as movie studios, cable and satellite operators, and TV broadcasters have begun offering more programming in HD.
But as the
economy worsens
, the forecast for the TV market is looking grim. The LCD TV market is only expected to grow about 17 percent in terms of units shipped in 2009, according to research firm DisplaySearch. This is down from growth of about 29 percent in 2008. Plasma TV growth is also expected to suffer with the market only expected to grow by about 5 percent in 2009 compared with a 24 percent rise in 2008, DisplaySearch said.
As a result, TV makers are looking for the next hot thing to attract new consumers. And some are hoping 3D TVs could be it.

At this year's
Consumer Electronics Show
in Las Vegas, four of the top selling TV manufacturers--Samsung Electronics, Sony, LG Electronics and Panasonic--showed off their latest versions of 3D TVs. Panasonic set up a mini-home theater where its 103-inch, plasma 3D screen showed clips from New Line Cinema's
Journey to the Center of the Earth
and Walt Disney Pictures' animated film
Bolt
. They also showed high-definition 3D footage from NBC's broadcast of the 2008 Summer Olympics in Beijing.
While some manufacturers, such as Mitsubishi, Phillips, Samsung, and Sharp, have already begun selling 3D-ready TVs, the top four manufacturers plan to have new, advanced 3D TVs on sale toward the end of 2009 and into 2010.

But the big question is whether consumers, particularly American consumers, will be willing to upgrade to a new TV just because it has 3D. Pricing for today's 3D ready TVs is comparable to other flat-screen HDTVs. Samsung and Mitsubishi currently sell their 3D-ready TVs for between $1,000 and $2,800, depending on functionality. These prices are in line with average prices for HDTVs that don't offer 3D readiness.

Keisuke Suetsugi, a manager for the audio visual center at Panasonic, believes that even the newer, more advanced 3D TVs will not cost much more than TVs without 3D. So for consumers already in the market for a TV, adding 3D readiness might not add much cost. But will 3D be enough to compel cutting-edge consumers to replace their 2- or 3-year-old TVs? That's what TV manufactures are hoping.

Three-dimensional movies have been around since the 1950s. And for most of its lifespan the technology has been seen more as a gimmick than something that truly enhances the movie-going experience. But newer technology and advanced special effects are
helping 3D movies
break into the mainstream.
(Credit: NBA)
From a technical standpoint, the technology is available and mature enough today to make 3D TVs available at a reasonable cost to consumers. But there are still a few drawbacks that could prevent 3D TV from becoming the next big thing in home entertainment.

For one, to get the really cool, immersive 3D experience without getting a massive head-ache, consumers will have to wear special glasses when they're watching TV in 3D. The glasses are needed because 3D imaging requires sending a different image to each eye. And the glasses help merge the images in the mind and trick the brain into thinking that it's seeing a single 3D image.

I checked out
Panasonic's home theater in 3D
. I must admit, the experience was phenomenal. I felt like I was on the floor at the Olympics opening ceremonies in Beijing right alongside the hundreds of dancers and drummers. But without the glasses, the image looked fuzzy.
Panasonic's Suetsugi admits that in a perfect world, consumers should be able to have the immersive 3D experience without wearing glasses. But he said that it will be at least 10 years before the technology is advanced enough to provide a similarly robust 3D experience without glasses.

"Glassless 3D would be ideal," he said. "But it's just not possible to do that now and get the same quality experience. You would need at least 50 times more pixels to get a display to provide the same 3D experience that we provide with our TV. We are still 10 years away from that kind of technology."

Taesoo Park, a chief research engineer at LG, which makes 3D display monitors for advertising and digital signage, agrees. LG plans to start selling its 3D TVs, which require glasses, late in 2009 or in the beginning of 2010. Its glassless digital signs were also on display at CES.

"Glassless 3D is available today for digital signage and advertising," Park explained. "But the technology is not ready for TVs, because it would hurt people's eyes or give them a headache to look at today's 3D displays for any length of time. It will be at least a decade before we can get the technology to make glassless TV a reality."

That said, some manufacturers claim they have developed technology that doesn't require glasses. Phillips uses a technology it calls WOWvx. 3M and Toshiba also showed off glassless 3D screens at CES. 3M has created a thin film technology that can be used to beam light selectively to the viewer's right and left eyes.

But glasses aren't the only thing that could hold back 3D adoption. Currently, there's no standard way to get 3D footage from the movie studios or from a live broadcasts to the home. Companies, such as Panasonic, are already working on developing a standard. But industry watchers fear that competing standards could emerge and spur another "format" war like the one that pitted HD DVD and Blu-ray against each other.

Panasonic's Suetsugi said he is hopeful that a common standard for 3D Blu-ray hardware, software, and TVs will emerge sometime this year, paving the way for 3D TV sales to pick up in 2010.

In addition to the standards issue, another hurdle for 3D TV has to do with the high production cost of shooting movies and events in 3D, as well as, the high cost of transporting the video across networks. Three-dimensional video requires multiple cameras for shooting. And it also requires multiple high-definition streams for transporting the video over carrier networks.

Regular standard definition television broadcasts consume more bandwidth capacity than other types of traffic like audio or text. High-definition video eats up even more. And it would likely take at least two full high-definition channels to broadcast live just one game in 3D.

"Transporting live, high-definition 3D streams is very expensive," said Steve Hellmuth, executive vice president of technology and operations for the NBA. "So there has to be sufficient demand and a pool of content before satellite and cable operators will devote resources to delivering it. I really think that Hollywood will initially drive adoption of 3D in the home."

On eve of Las Vegas consumer electronics showcase, expectations grow for internet TVs and the tablet computer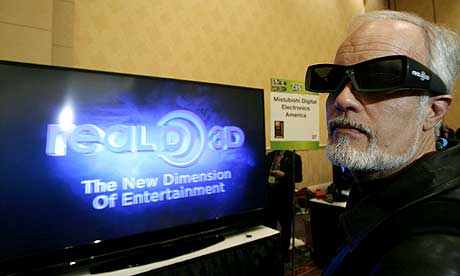 Televisions enhanced with direct internet access and
3D
displays will be among the most anticipated products unveiled when the world's biggest annual technology showcase kicks off in Las Vegas on Thursday.This year could see a revolution in televisions on high street sale as they converge with the web, allowing viewers to watch services such as the BBC's iPlayer and YouTube more conveniently.Manufacturers including
Sony
, Panasonic and LG are expected to launch sets with a broad range of new capabilities at the Consumer Electronics Show, including High Definition TV (HDTV) screens with the internet telephony service Skype built in, so people can use their TVs for video chats with friends and family anywhere in the world.The BBC launched a limited trial last month of the iPlayer on some high definition
Freesat
boxes – the free-to-air satellite service is increasingly integrated into TVs – and is anticipating even more viewers being online when the next generation of sets emerges.There is a scramble to profit on the hype surrounding 3D after cinema hits Avatar and Up. A number of companies will be debuting their attempts at high-quality 3D screens. The Discovery Channel could even announce plans to launch a 3D TV channel next year.The Las Vegas show is where the world's most powerful electronics brands fight for top billing: launches in the past include the DVD, the Xbox games console and the puzzle game Tetris.Last night's launch of the Nexus One phone – Google's rival to
Apple
's iPhone – sought to upstage the start of CES and the next big moment will come tomorrow night with a keynote speech from
Microsoft
's forceful chief executive, Steve Ballmer.The company has opened CES in the past by outlining a vision of where Microsoft believes the future is headed. Two years ago billionaire founder Bill Gates demonstrated a table with a built-in touch sensitive computer, the Surface, while last year Ballmer
showed off Windows 7.
Announcements likely this year include new
mobile phones
, concepts for home entertainment – perhaps even a launch date for Project Natal, the motion-sensitive video gaming system
unveiled last summer
. Whatever Ballmer has up his sleeve, he will have to compete with announcements from rivals such as Sony, Samsung, and Google.Microsoft is not alone in looking for wow factor. Others include Nokia, the beleaguered mobile phone maker whose chief executive, Olli-Pekka Kallasvuo, will attempt to excite Friday's crowds with a new slate of gadgets. Alan Mulally, boss of car maker Ford, is expected to show off hi-tech concepts aimed at changing the future of driving."We expect them to say something fairly significant," said Gary Shapiro, head of the Consumer Electronics Association, which organises the show. "They are positioning themselves as a tech company rather than a car company."It is on the show's extensive floors that most surprises are likely. With more than 2,500 exhibitors and acres of floor space, weird and wonderful ideas have plenty of room to thrive. Exploding on the scene this year are tablet computers – touchscreen devices pitched between a laptop and a mobile phone. With Apple – which is not at CES itself – set to make an announcement later this month, rivals are hoping they can break into the market. Among these is Freescale, a US company which has announceda machine combining tablet and smartbook features. "We believe the tablet will emerge as a popular form factor for the next generation of smartbooks," said Henri Richard of Freescale.